I am the Black Ninja
Daily tech news, reveiws, and booze. Scratch the booze, it's got some cool stuff, though.
Thursday, August 25, 2005
Doom trailer - including FPS sequence.
"open source DRM?"
Hitachi unveils world's first terabyte DVD recorder
Advice to iPod thieves: do not bring to an Apple retailer
Tuesday, August 23, 2005
I'm on Google Talk right now.
More info on "Google Talk" IM with Voice
Brand New Call for Help Website
Microsoft's Secret Files On Your Windows
Google Talk, an IM client, ready to launch
Monday, August 22, 2005
Instantly see what company controls a phone number
Canada's Big Brother Plan Unmasked
Google Sidebar is out
Google IM Coming Wednesday?
Sunday, August 21, 2005
Prank Calls to the Geek Squad
Is your site blocked in China?
Download classic games like Kings Quest
Hacking the US Postal Service
Greatest Easter Eggs In Gaming
Friday, August 19, 2005
Make A Million Saving From 16 - 21 years old.
Meetro (The Location Aware IM Client) Is Coming to the Nintendo DS and PSP
Thursday, August 18, 2005
Man modifies Hybrid to get 80 miles per gallon!
Virtual mugging is here!
PS3 299!!!@ AMAZON.COM!!!
NES Controller TV Remote
Gmail Drive 1.0.7 released
Hidden Windows Apps
Wednesday, August 17, 2005
DVD Shrink Is No More
iPodderX Windows Public Beta Released!
College Majors That Pay Out the Most
Holla~
Convert OEM Windows XP disc to Retail Windows XP
Kid Busted by WoW-playing mommy
Hacking MD5 encryption
(IN)SECURE Magazine Issue 1.3 Released!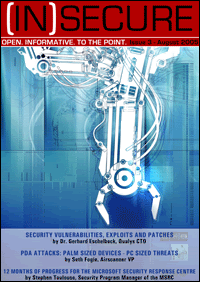 DOWNLOAD ISSUE 1.3 HERE
The covered topics are:
* Security vulnerabilities, exploits and patches
* PDA attacks: palm sized devices - PC sized threats
* Adding service signatures to Nmap
* CSO and CISO - perception vs. reality in the security kingdom
* Unified threat management: IT security's silver bullet?
* The reality of SQL injection
* 12 months of progress for the Microsoft Security Response Centre
* Interview with Michal Zalewski, security researcher
* OpenSSH for Macintosh
* Method for forensic validation of backup tapes
Linksys WRT54GS Wireless Encryption Security Bypass
Quake 3 Source Code Released
The fish that threatened national security
Official Game Boy micro Website
Microsoft Readies 2 Versions of the Xbox 360
Over 10000 Computers a Minute Being Rebooted NOW Thanks To RBOT.EBQ virus
Hackers Getting Free Hotel Porn With Simple Linux Laptop
Meet HVD - 1 Terabyte of Storage, Twice as Fast as a Hard Drive
Tuesday, August 16, 2005
Call For Help Returns to US Television!
The FIRST Internet worm.
Free Windows Xp GUIs from AlienWare
Knoppix 4.0 DVD Public Release
Aqua Teen Hunger Force Vol. 4 DVD Dec. 6 05
VOIP threats Fact or fiction
Technorati's 100 Most Popular Blogs
Air Force is doing a Podcast
Symantec aiming to buy Sygate.
Adobe introduces blog
Patches rain down on OS X
Run Windows on your PSP
[adult swim] podcast?
Crocodile Immune System Kills HIV
Lunch
Principles of Web Design
IRC bot latches onto Plug-and-Play vulnerability
Mad rush for $50 computers
Google Maps + MSN Visual Earth + Flash = FlashEarth
Build Your Own Mac for $199
PS3 is confirmed to be released in 2006 and to support multiple OS
10 MPH Movie Trailer
Windows XP Tips & Tricks
Intel to deliver dual-core, hyper-threaded chips earlier than expected
Legend of Zelda Halo mod
Monday, August 15, 2005
Yeah, it's back..
RFP Online
. All Rights Reserverd. Powered by
Blogger
. Writers:
Jeremy Emberling
,
Matthew Sanders